Morgan Stanley raises billions for infrastructure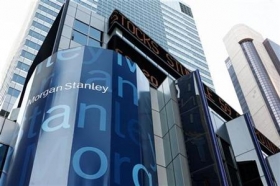 By Aarthi Sivaraman and Mathieu Robbins
NEW YORK/LONDON (Reuters) - Morgan Stanley <MS.N> and a fund set up by General Electric <GE.N> and Credit Suisse <CSGN.VX> said on Monday they had collectively raised almost $10 billion for funds to invest in infrastructure.
Morgan Stanley said it has raised a $4 billion infrastructure fund, exceeding its target, and is targeting assets in sectors like transportation, energy and utilities.
Separately, Global Infrastructure Partners (GIP), set up by General Electric Co and Credit Suisse Group, also said on Monday it closed a $5.6 billion infrastructure fund which it plans to invest in such opportunities worldwide.
Despite offering lower growth than traditional private equity deals, infrastructure assets such as utilities, toll roads and airports are attractive to financial bidders like banks and pension funds because of their stable cashflow.
Financial institutions including banks ranging from Australia's Macquarie <MQG.AX> to Goldman Sachs <GS.N> and buyout firms like UK-based 3i Group <III.L> have all set up infrastructure funds or units as they try to complement other activities with such stable investments.
Such investments are viewed as so stable that pension funds such as Ontario Teachers' Pension Plan have also invested directly in assets such as UK water companies and power producers.
At $4 billion, the Morgan Stanley fund shot past its original target of $2.5 billion, raising capital in North America, Europe, Australia, the Middle East and Asia, Morgan Stanley said in a statement.
Investors in the Morgan Stanley fund ranged from big pension funds and insurance companies to some of the New York-based bank's employees.
The Morgan Stanley fund launch comes at a time of economic uncertainty but market conditions are "creating unique opportunities for the infrastructure sector," Chief Investment Officer Sadek Wahba said.
"Infrastructure is now an important component of any asset allocation strategy; it offers portfolio diversification and the ability to invest in 'real' assets, with uncorrelated investment returns relative to other asset classes," Morgan Stanley co-president James Gorman said.
However despite an increasing trend of investment in infrastructure, some signs indicate even infrastructure is not immune to the credit crunch, with consultancy Deloitte saying in March the sector faces financing pressure and lower returns.
Debt tends to be important in infrastructure deals because buyers typically borrow a lot against the asset to fund their deals, not unlike private equity has done in recent years in riskier sectors.
They can then issue debt, for example bonds, on the back of the acquired company, and use the stable cashflow infrastructure businesses generate to pay the interest.
Morgan Stanley Infrastructure's investment team is in New York, London, Hong Kong and Beijing.
(Reporting by Aarthi Sivaraman and Mathieu Robbins; Editing by Quentin Bryar and David Holmes)