Gene therapy shows promise in rare brain disease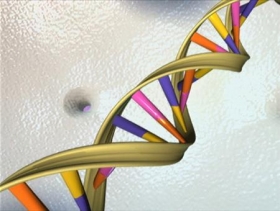 By Maggie Fox, Health and Science Editor
WASHINGTON (Reuters) - An experimental gene therapy treatment appears to have helped eight children with a rare and incurable neurological disorder, although it may have been responsible for the death of one, researchers reported on Tuesday.
They said the treatment appeared safe and effective enough to try in more children with late infantile neuronal ceroidlipofuscinosis, or LINCL, a form of deadly Batten disease.
The treatment, in which a virus carrying the corrective gene was infused directly into the brain, appeared to slow the decline of eight out of 10 children treated, Dr. Ron Crystal of New York-Presbyterian Hospital/Weill Cornell Medical Center and colleagues reported.
"We are encouraged by this. It's not a cure," Crystal said in a telephone interview.
Like all forms of gene therapy, the hope is that the mutant cells will take up the new gene and start working normally.
Children with LINCL start showing symptoms at about age 4. They lose coordination, vision and speech and usually die unable to breathe on their own, between 10 and 12.
One child suffered an epileptic seizure weeks after treatment and died and another child died of unknown causes two years after treatment.
Eight of the children showed a measurable slowing of the inevitable decline usually seen in the condition.
Only about 200 children are alive with the disease globally at a given time.
"The disease is caused by mutations in the CLN2 (ceroid lipofuscinosis, neuronal 2) gene," Crystal and colleagues wrote in their report, which was published in the journal Human Gene Therapy.
INTERNATIONAL TRIAL
The researchers chose 10 children from the United States, Britain, Australia and Germany, five severely affected by the disease and five moderately affected.
Tiny glass tubes infused the adeno-associated viruses carrying the corrective gene into the brains of the children. Crystal's team watched the 10 children for 18 months, comparing them to four untreated children with the same condition.
"The primary variable was a clinical rating scale based on the number of seizures, language skills, motor skills and so on," Crystal said. "That's where we saw what appeared to be statistically significant."
Magnetic resonance imaging scans of the brain also appeared to show slowing of the disease but this was less clear, he said.
"You can't give back more brain cells. You can't improve it. All you can hope to do is to delay progression," Crystal said.
One child suffered a seizure and died after 49 days. "We know it's related to what we did," Crystal said. "But we don't know whether it related to the virus or not."
He said there was no evidence the virus caused an immune reaction and noted that putting a glass tube into the brain could have caused a seizure. Children with Batten's often have seizures as a manifestation of the disease.
Crystal said the dangerous and experimental therapy was justified for the children. The mutations affect a mechanism that rids nerve cells of waste materials.
"It's like the garbage man of the cell is not able to do its job," Crystal said. "The trash keeps getting backed up inside the cell until the cells can no longer function properly and then eventually die throughout the entire brain."
Gene therapy is a controversial field but last month doctors reported a gene therapy approach improved the vision in four patients with a blinding condition.
In 1999 an 18-year-old volunteer died during a gene therapy experiment and in 2002 gene therapy cured two French boys with a fatal immune disorder but gave then leukemia -- which was also treated.
(Editing by Will Dunham and Bill Trott)