Study sees threat from big-particle pollutants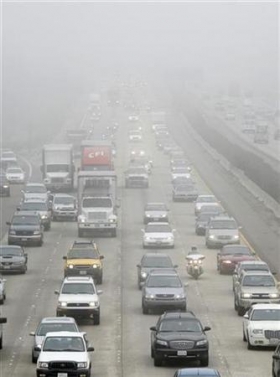 By Andrew Stern
CHICAGO (Reuters) - On days when there is a lot of dust and other large-particle pollutants in the air, slightly more elderly people go to hospital emergency rooms with heart problems, U.S. researchers said on Tuesday.
There was also an increase in hospital visits by elderly patients complaining of respiratory illnesses when "coarse," or large, particle pollution was plentiful, although the rise was not significant, the researchers said.
"Though the evidence is mixed at this point, we did find an association between cardiovascular admissions and coarse particulate matter," Roger Peng of Johns Hopkins University in Baltimore, who led the study, said in a telephone interview.
"So I think it's important that we update this study and others like it using continuing monitoring data" collected by government pollution sensors across the United States.
Peng and others have previously identified the dangers to hearts and lungs posed by fine airborne particles, which are smaller than 2.5 microns across, or 100 times tinier than the width of a human hair.
Smaller particles spewed in vehicle exhaust and from other sources can travel farther than coarse particles and, when inhaled, can penetrate deeper into the lungs. If they become trapped, it raises the risks of illnesses that include emphysema, lung cancer and heart disease.
"It is fairly well known that fine particulate matter ... has adverse health effects," said Francesca Dominici, another Johns Hopkins researcher who worked on the study.
DUSTIER IN THE WEST
Coarse particles that range between 2.5 microns and 10 microns in diameter tend to lodge in the upper respiratory tract when inhaled and are believed to be easier to expel.
The researchers examined seven years worth of air pollution data from 108 counties across the United States and compared it with 3.7 million hospital admissions for cardiovascular disease and 1.4 million visits for respiratory illnesses among elderly people insured by the government-funded Medicare program.
They correlated the emergency room visits to days when monitoring stations detected heavy levels of large particle pollution.
When coarse particles were plentiful, hospital emergency rooms received 0.36 percent more elderly patients with heart disease or stroke than on less-polluted days, according to the study published in the Journal of the American Medical Association.
Put another way, if there were high levels of coarse particulates in the air over a one-year period in the study areas, it would have resulted in an additional 1,800 hospital visits for cardiovascular disease, Peng said.
Heavy coarse particle pollution occurs on 5-10 percent of days in the eastern United States and on 20 percent of days in the western states, the researchers said. Small-particle pollution is more common in eastern than western states.
"There are more sources of this coarse particulate matter (in western states) -- things like desert dust, road dust and other natural and mechanical processes," Peng said.
The U.S. Environmental Protection Agency monitors both fine and coarse particle pollution, but the agency is awaiting evidence to refine its standard for large particles, the researchers said.
(Editing by Maggie Fox and John O'Callaghan)