U.S. House defeats $162.5 bln in new war funds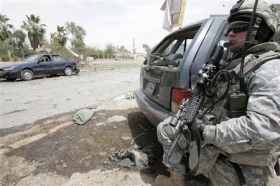 WASHINGTON (Reuters) - The U.S. House of Representatives on Thursday defeated legislation that would have funded the war in Iraq for another year, in a surprise move that the Senate could overturn.
By a vote of 149-141, the Democrat-controlled House rejected a measure that would have given the Pentagon $162.5 billion to keep the wars in Iraq and Afghanistan running through next summer, slightly below President George W. Bush's request.
A large group of anti-war House Democrats voted against the funds. That, coupled with 132 Republicans voting "present," meaning neither "yes" nor "no," killed the measure for now.
But the Senate is expected to debate its version of a war-funding bill possibly next week and is likely to resurrect the money for the coming year.
(Reporting by Richard Cowan)