$2 Billion Wind Turbine Order Is Largest Ever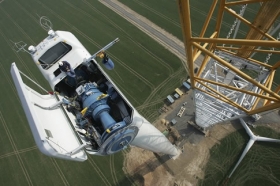 Texas oilman T. Boone Pickens has placed an the largest ever order for wind turbines: he ordered 667 wind turbines from GE, each costing $3 million dollars, making the total order $2 billion. Picken plans to develop the world's largest wind farm in the panhandle of Texas.
The $2 billion order is just one quarter of the total amount he plans to purchase. Once built, the wind farm would have the capacity to supply power to over 1,200,000 homes in North Texas.Each turbine can produce 1.5 megawatts of electricity. The first phase of the project will produce 1,000 megawatts, enough energy to power 300,000 homes. GE will begin delivering the turbines in 2010, and current plans call for the project to start producing power in 2011.Ultimately, Picken's company, Mesa Power, plans to have enough turbines to produce 4,000 megawatts of energy, the overall project is expected to cost $10 billion and be completed in 2014.
Mesa Power has leased sparsely populated land in the Texas panhandle, where the wind often blows during daylight hours when energy needs are highest. Texas' Competitive Renewable Energy Zones (CREZ) transmission lines will deliver what Pickens hopes will be "cost effective and reliable electricity generated by renewable energy power projects."