Saudi oil output boost doesn't solve problem: Bush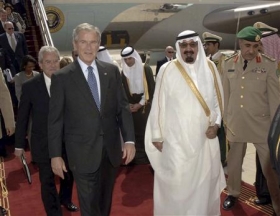 SHARM EL-SHEIKH, Egypt (Reuters) - U.S. President George W. Bush said on Saturday he was pleased with a boost in Saudi oil output but it did not solve problems in the U.S..
Bush said he made clear to Saudi leaders that high oil prices hurt the economies of some of Saudi Arabia's biggest oil customers.
Asked about his meetings with Saudi officials in Riyadh on Friday and whether he was satisfied with the Saudi oil output boost, Bush said King Abdullah summoned his energy minister.
"I said very plainly that you've got to be concerned about the effect of high oil prices on some of the biggest customers in the world.
"As the (Saudi oil) minister said yesterday, Saudi Arabia has increased the number of barrels of oil by 300,000 a day and they're increasing refining capacity which is not enough.
"It's something but it doesn't solve our problem," Bush told reporters. "Our problem in America gets solved if we expand our refining capacity, promote nuclear energy and continue our strategy for the advancement of alternative energies."
"I was pleased that they increased production by 300,000 (barrels a day) but I'm also realistic to say to the American people that we've got to do more at home," he said.
Since Bush last visited Saudi Arabia in January, oil prices have jumped since $30 to a record near $128 a barrel on Friday.
(Reporting by Matt Spetalnick, editing by Robert Woodward)