Environmental protection vital to reducing natural disaster impact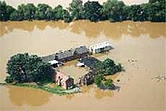 Environmental degradation is a key factor turning extreme weather events into natural disasters, a new WWF report has found.
Natural Security: Protected Areas and Hazard Mitigation, prepared with environmental research group Equilibrium, examines in detail the impacts of floods in Bangladesh (2000), Mozambique (2000 and 2001) and Europe (2006), heat waves and forest fires in Portugal (2003), an earthquake in Pakistan (2005) and the Indian Ocean tsunami (2004) and Hurricane Katrina in the USA (2005) in illustrating the natural disaster prevention and mitigation potential of environmental conservation.
"It is deforestation and floodplain development that most often links high rainfall to devastating floods and mudslides," said Liza Higgins-Zogib of the WWF's Protected Areas Initiative. "Extreme coastal events cause much more loss of life and damage when reefs are damaged, mangroves are removed, dune systems are developed and coastal forests are cleared."
The World Bank estimates that more than 3.4 billion people, or more than half of the world's population, are exposed to at least one natural hazard and according to the report, over the past 50 years the severity of impacts from natural disasters has increased, due in part to the loss of healthy ecosystems in the regions affected.
Examples of these impacts include a doubling of wave energy in the Seychelles as a result of reef destruction and sea level rise with a further doubling predicted over the next decade and evidence of greatly different levels of tsunami impact in neighbouring communities being related to the extent of reef protection and remaining mangrove coverage.
It also explores how the loss of upwards of 70 per cent of floodplains in the Danube and tributaries is contributing to increases in the frequency and severity of floods and how vegetation and land use changes change natural fire regimes and boost devastation levels from wildfires.
"While large-scale disasters cannot be entirely avoided, the report identifies specific ways we can mitigate the devastating impact of disasters through better ecosystem management, including the establishment of protected areas", said Jonathan Randall, senior program officer for WWF's Humanitarian Partnerships programme and co-author of Natural Security.
In one success story, the investment of US$1.1 million in mangrove replanting and other measures saves some Vietnamese communities an estimated US$7.3 million a year in sea dyke maintenance. During typhoon Wukong in 2000 the area remained relatively unharmed while neighbouring provinces suffered significant loss of life and property.
Similarly, the management of some 17% of Swiss forests mainly for their protective functions in reducing avalanches, landslides and flooding is calculated to provide protective services valued at an estimated US$2 to 3.5 billion per year.
WWF is urging governments to create suitable protected areas and to maintaining natural ecosystems, such as coastal mangroves, coral reefs, floodplains and forest, that may help buffer against natural hazards. It also calls on governments to maintain traditional cultural ecosystems that have an important role in mitigating extreme weather events, such as agroforestry systems, terraced crop-growing and fruit tree forests in arid lands.
In the many areas exposed to greater natural disaster risk through degraded ecosystems, WWF recommends that opportunities be provided for their active or passive restoration.
"We recognise that there have been many international agreements and declarations linking the preservation of ecosystem services with the mitigation of disasters, but note that in many cases it is only the permanent and well-managed setting aside of land and sea as protected areas which can provide the stability and protection so often called for," said Randall.