Peak Oil and Corporate Control of Oil Resources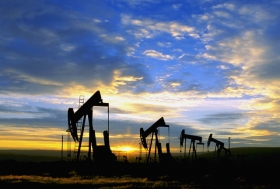 Never have so many oil and gas companies spent so much to produce so little.
That's the challenge facing Exxon Mobil Corp., Royal Dutch Shell Plc, BP Plc, Chevron Corp., Total SA and ConocoPhillips, which will spend a record $98.7 billion this year on exploration and production, Lehman Brothers Holdings Inc. estimates. Costs more than quadrupled since 2000 as explorers targeted more challenging reservoirs and demand rose for labor and material.
New supply from outside OPEC nations will meet about 20 percent of growth in world demand during the next four years, data from the International Energy Agency show. The lack of supply has traders betting oil will remain at about $120 a barrel for at least eight years, according to futures on the New York Mercantile Exchange.
The wagers are buttressed by delays at fields including Kashagan, a Kazakh deposit where the budget has more than doubled to $136 billion and the first production is eight years behind schedule. Waters frozen half the year forced contractors to build artificial islands, while care must be taken to protect workers from deadly hydrogen sulfide fumes emitted by the wells.
``The future is going to be very trying for the international oil companies,'' said Robert Ebel, chairman of the energy program at the Center for Strategic and International Studies in Washington. ``There's no more easy oil for them. Kashagan is a shining example of the problems they face bringing new oil into play.''
BP increased 8 pence to 643 pence and Shell A shares added 67 pence to 2,184 pence in London. Exxon Mobil rose $1.69 to $94.36 in New York Stock Exchange composite trading.
Full Story: http://www.bloomberg.com/apps/news?pid=20601087&sid=ajkO0...