Burger King announces board changes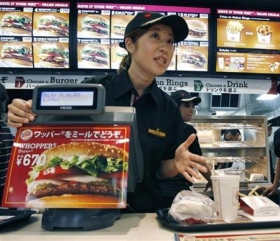 NEW YORK (Reuters) - Burger King Holdings Inc <BKC.N> said on Tuesday that three directors on its board -- Andrew Balson of Bain Capital Partners, David Bonderman of TPG Capital and Adrian Jones of Goldman Sachs Funds -- have decided to resign effective June 30.
Funds controlled by TPG Capital, Bain Capital and Goldman Sachs own about 32 percent of Burger King's outstanding shares, Burger King said, after the funds announced plans to cut part of their stake in the world's second-largest hamburger chain.
The company also announced the resignation of its non-executive chairman, Brian Swette, effective June 30 and said that its chief executive, John Chidsey, will serve both as chairman and CEO from July 1.
(Reporting by Aarthi Sivaraman, editing by Dave Zimmerman)