Caribbean nations plan marine parks to aid economy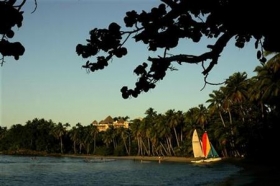 By Alister Doyle, Environment Correspondent
OSLO (Reuters) - Caribbean islands will create new protected areas for fish and coral reefs under a $70 million plan announced on Tuesday that will help safeguard tourism-backed economies.
"This is a trust fund for the future benefit of society," Bahamas Minister of Works and Transport Earl Deveaux told Reuters of the project. "Our economy is based on tourism and our greatest natural resource is our environment."
Inspired by a 2006 plan to protect part of the Pacific Ocean and a "Coral Triangle" project launched in 2007 for southeast Asia, nine Caribbean nations agreed to extend protected areas to 10 percent of their marine and coastal habitats by 2012.
The Bahamas, Dominican Republic, Jamaica, Antigua and Barbuda, St. Kitts and Nevis, Dominica, Saint Lucia, Grenada, St. Vincent and the Grenadines aim to set aside about (32,000 square km (12,500 sq miles), according to the U.S.-based Nature Conservancy which is advising Caribbean governments.
That area is roughly the size of Belgium or the U.S. state of Maryland. The Bahamas will be the largest contributor of protected areas under the "Caribbean Challenge" and aims to set aside 20 percent of marine habitats by 2020.
"In many Caribbean nations at least 50 percent of gross domestic product is derived from tourism," said Rob Weary of the Nature Conservancy. "Countries are realizing the need to invest in protected areas so tourism can remain the economic engine."
BIODIVERSITY
Other Caribbean nations would be asked to join.
The Nature Conservancy said the three Caribbean, Pacific and Coral Triangle projects together spanned 83 percent of the world's coral biodiversity and 82 percent of mangrove species and had potential to aid the livelihoods of 130 million people.
Deveaux said the project could have wider spinoffs since five percent of the world's coral reefs were in the Bahamas.
"Whatever contribution they are likely to make to medicine, pharmaceuticals, biodiversity, the preservation of these ecosystems is vitally important to people well beyond the borders of the Bahamas," he said.
The plan was launched on the sidelines of a May 19-30 U.N. meeting on biodiversity in Germany, which is seeking ways to safeguard animals and plants. Only 0.5 percent of the world's marine areas are protected against 12 percent of land areas.
The Nature Conservancy said that about seven percent of the Caribbean's marine resources now have protected status but only a tenth of these were considered properly conserved.
The $70 million cost would comprise $40 million in a trust fund and $30 million for expanding protected areas, Weary said. Among major donors, the Conservancy would provide $20 million and Germany was considering $8.6 million.
The project illustrates a widening belief that natural systems, such as forests, wetlands or glaciers, provide free services that are undervalued by conventional economic theory.
Protected corals, for instance, can raise overall fish catches by acting as nurseries for fish that later swim to other waters. Intact reefs also draw tourists and can shield beaches from storm surges or tsunamis.
Deveaux said that steps to bolster Caribbean economies would also help them in the longer term to resist threats such as climate change or rising world food prices.
-- For Reuters latest environment blogs click on:
http://blogs.reuters.com/environment/
(Editing by Matthew Jones)