Coca-Cola Enterprises sees second-quarter profit down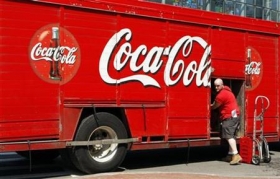 By Brad Dorfman
CHICAGO (Reuters) - Beverage bottler Coca-Cola Enterprises Inc <CCE.N> said on Wednesday it expects a mid- to high-single-digit percentage decline in second-quarter profit, excluding one-time items, citing the weak North American economy.
Analysts, on average, expected earnings for the quarter to be up 5 percent, and shares of the company fell 5.1 percent on Wednesday to a 14-month low.
Coca-Cola Enterprises also said it would be hard to meet its full-year earnings forecast of $1.50 to $1.55 a share if current economic and market trends did not improve. Analysts, on average, forecast $1.51 a share, according to Reuters Estimates.
The world's largest bottler of Coca-Cola Co <KO.N> beverages said the weakening North American economy was cutting into sales volume, especially in higher-margin 20-ounce bottles, which are sold in convenience stores. Higher gasoline prices have cut into convenience store traffic, analysts said.
"We are taking action to meet the persistent challenges created by these weakening economic and marketplace conditions in the U.S., including initiatives to strengthen cold drink sales, increase revenue, and reduce expenses," John Brock, chairman and chief executive, said in a news release.
He said it was unclear what impact the steps would have as the company heads into the key summer selling season.
But analysts said the company's issues may go beyond macroeconomic factors.
"It is also because CCE is not executing as well as other Coke bottlers in North America, growing volume at a slower rate" than the other bottlers on a combined basis, said Stifel Nicolaus analyst Mark Swartzberg in a research note.
The recent addition of Glaceau beverages to the Coca-Cola distribution system may also have caused some "distraction," said J.P. Morgan analyst John Faucher in a research note.
Coca-Cola Enterprises also said it expects modest volume and operating income growth in the second quarter in Europe despite the impact of a recently resolved two-week labor disruption in France.
For its part, Coca-Cola Co on Wednesday said it was still confident in its outlook for the second quarter and full year, citing strength in international markets.
Coca-Cola Enterprises shares were trading down $1.09 at $20.22 on Wednesday on the New York Stock Exchange. Coca-Cola Co shares fell 67 cents, or 1.1 percent, to $57.92.
(Reporting by Brad Dorfman; Editing by Brian Moss and Mark Porter)