Lung cancer takes center stage at conference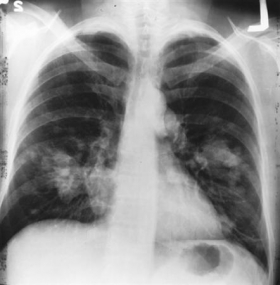 By Deena Beasley
LOS ANGELES (Reuters) - Potential advances in the treatment of lung cancer, the leading cause of cancer deaths in the United States, will be a major focus at a key meeting of oncology specialists starting on Friday.
At the American Society of Clinical Oncology on Sunday, biotechnology company ImClone Systems Inc is slated to unveil long-awaited results from a pivotal trial of its Erbitux drug, in combination with chemotherapy, in patients with advanced nonsmall cell lung cancer.
The company has already said that the study, called Flex, had met its main goal of boosting survival, but physicians and investors are curious about exactly how much longer patients were shown to live.
"The Flex study will be one of the most important presentations at ASCO," said Dr. Roy Herbst, chief of thoracic oncology at MD Anderson Cancer Center in Houston. "Lung cancer doctors and patients would like to know more details."
The Chicago meeting, which is expected to attract more than 25,000 cancer specialists, will also be a forum for new research on how best to combine cancer therapies and to determine before treatment which patients are likely to benefit.
Lung cancer kills 1.3 million globally a year, according to the World Health Organization, and the American Cancer Society says lung cancer was diagnosed in 213,380 people in the United States in 2007, killing 160,390.
ERBITUX AND AVASTIN
Erbitux, also known as cetuximab, is an antibody designed to block a protein called epidermal growth factor that is believed to play a role in cancer cell growth. The drug is already approved for cancers of the colon and the head and neck.
Bristol-Myers Squibb and ImClone, which is controlled by financier Carl Icahn, sell Erbitux in North America. In other regions, the drug is marketed by Germany's Merck KGaA.
The lung cancer research is likely to influence oncologists, who currently have only one nonchemotherapy option for initial treatment of the disease -- Genentech Inc's Avastin, an antibody that works by cutting off blood supply to tumors.
The trial under which Avastin was approved excluded certain patient groups and showed that the drug prolonged survival by about two months. The Erbitux lung cancer trial, called Flex, enrolled a wider group of patients.
Another Phase III trial of Avastin, for which sponsor Roche Holding AG released full results last month, showed that the drug did not help lung cancer patients live longer, but did help keep the disease from progressing.
Avastin research to be presented at ASCO examined the safety of the drug, also known as bevacizumab, in patients excluded from previous trials -- including those with lung cancer that has spread to the brain.
ADVANCED CASES
Conference attendees will also see data on how best to treat lung cancer if the disease begins to progress despite the first round of treatment.
Trial results released ahead of the conference earlier this month showed that patients with advanced lung cancer who took Eli Lilly and Co's Alimta, or pemetrexed, after finishing their normal course of chemotherapy lived cancer-free for two months, or 40 percent, longer than those who took a placebo.
Those findings, as well as the Erbitux data, may have implications for OSI Pharmaceuticals Inc's Tarceva, which is approved for nonsmall cell lung cancer patients previously treated with two or more rounds of chemotherapy.
Results from trials looking at Tarceva, or erlotinib, as an earlier-stage lung cancer treatment are expected later this year.
The ASCO conference will also be the stage for numerous presentations of early clinical data for a range of lung cancer compounds, including Exelixis Inc's XL647, which is being studied in patients with nonsmall cell lung cancer who have relapsed following treatment with a targeted cancer drug like Tarceva.
(Editing by Lisa Von Ahn)