U.S. stocks near "important bottom": Fidelity's Lange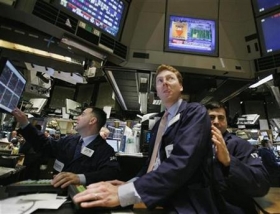 BOSTON (Reuters) - U.S. stocks could be close to an "important bottom" as moves by the central bank and the government to spur the economy are likely to work, the manager of Fidelity Investments' best-known Magellan fund said.
"One rule of thumb I've found useful is that actual risk in the stock market is typically inversely proportional to perceived risk. Judging by that maxim, I think we could be close to an important bottom in stock prices," Harry Lange said in a commentary on Fidelity's Web site posted on Thursday.
Lange, who is managing the $40.5 billion Magellan since 2005, said the U.S. Federal Reserve's rate cuts and the federal government's $100-billion tax rebates over the next few months would boost consumer spending.
"It might take some time for these measures to kick in, but I think they should eventually have the desired effect," he said.
U.S. stocks are up from their mid-March lows but are still down for the year. The S&P 500 index <.SPX> is up 10.1 percent since mid-March but is down 4.4 percent so far in 2008.
Privately owned Fidelity is the world's biggest mutual fund company, managing about $1.5 trillion in total assets. A Fidelity spokesman said Lange was not immediately available for comment.
On crude oil prices, Lange said they would move higher longer term because of rising demand from China and India as well as declining production.
"There are trends stoking that demand that are not going to go away any time soon. For example, in the Chinese city of Beijing, over 1,000 cars a day are being registered, all of which will add to the demand for gasoline," he said.
"Those drivers have not experienced gas prices at significantly lower levels, as many of us have in the United States, so I think they'll be less likely to rein in their spending even if gasoline prices move higher," Lange added.
(Reporting by Muralikumar Anantharaman, editing by Richard Chang)