DOE Taps Manufacturers to Advance Wind Power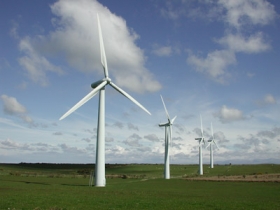 The Dept. of Energy joined forces with six major wind turbine makers this week in a bid to grow wind energy production high enough to account for a fifth of total generation by 2030.
The DOE and GE, Vestas, Siemens Power Generation, Clipper Turbine Works, Suzlon Energy and Gamesa Corp. signed a memorandum of understanding to advance wind energy manufacturing and address issues such as turbine reliability and standards, site strategies and workforce development.
"To dramatically reduce greenhouse gas emissions and enhance our energy security, clean power generation at the gigawatt-scale will be necessary to expand the domestic wind manufacturing base and streamline the permitting process," said DOE Assistant Secretary of Energy Efficiency and Renewable Energy Andy Karsner.
This week's announcement was made a month after the DOE released a report concluding that it is possible for wind to comprise 20 percent of its energy portfolio by 2030 if the country takes a comprehensive approach, such as tripling turbine manufacturing and addresses transmissions challenges.
U.S. wind energy has seen a dramatic increase in production in recent years, especially in the U.S., which is the world's fastest-growing wind energy market, according to the DOE. Wind power capacity in the U.S. capacity grew 46 percent in 2007, and associated projects made up 35 percent of all new electric generating capacity last year.