Poaching gangs blamed for tiger density tumble in Nepal park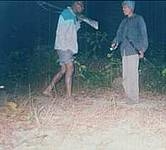 A Nepal wildlife reserve that boasted the highest density of tigers in the world is just half a decade later struggling to hold a few remaining tigers.
Conservationists were highly gratified when the first systematic sampling of the Shuklaphanta Wildlife Reserve in border areas of western Nepal in 2004/05 revealed a tiger density of 17 per 100 km2, an estimated 27 tigers for the 305 km2 reserve.
But the joy was shortlived as the 2006/07 sampling showed tiger density declining almost two thirds to six per 100km2.
"We were perhaps too cautious in not ringing an alarm bell when the density declined in
2005/06," said Anil Manandhar, Country Representative, WWF Nepal. "In the absence of any reported tiger poaching case [by the park authorities during 2004-06], we felt that reduced sampling could have been a reason for this observed decline and wanted to confirm it with another year of monitoring."
However, a scientific monitoring program using camera traps in 93 locations carried out between December 2007 and March 2008 was able to identify only five tigers - two male and three female - in the Shuklaphanta core area. 
The monitoring program is run by WWF in conjunction with the National Trust for Nature Conservation and the Nepalese government Department of National Parks and Wildlife Conservation.
On WWF estimates, the park tiger population now stands at just seven, a density of just under three tigers per 100 km2. On government estimates, the total park tiger population stands between six and 14 tigers.
According to WWF two recent seizures of tiger bones inside the reserve as well as skin and bones from adjoining Dhangadi town and photographs of people with guns taken through camera traps are all indicative of organized poaching in Shuklaphanta.
Article continues at WWF News Centre.