Australia activists to block world's top coal port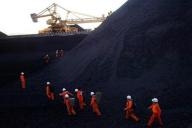 CANBERRA (Reuters) - Environmentalists plan to block one of two rail lines into the world's biggest coal export port in Australia at the weekend, amid wrangling by rich nations over efforts to combat climate change, they said on Tuesday.
Any disruption to coal shipments from the Newcastle port could give another boost to benchmark coal prices that are already near record highs at nearly $195 a tonne, having more than trebled in a year.
Up to 1,000 protesters are planning on Sunday to block the Carrington rail line into Newcastle port, north of Sydney. The port plans to ship 95 million tonnes of coal over the next year.
"You could say it's drastic action but it's simply because these are drastic times. We need to actually start taking serious action," Friends of the Earth spokesman Cam Walker said.
Newcastle is used by is used by big coal companies including BHP Billiton Ltd, Xstrata Plc, Rio Tinto Ltd/Plc, Gloucester Coal Ltd and Centennial Coal Company Ltd.
Activists from a coalition of green groups would start a "camp for climate action" from Wednesday and planned to sit on one rail line into the port to halt coal trains travelling from the nearby Hunter Valley mining region, Walker said.
Smaller protests would also happen on Monday and could include more rail line sit-ins, as well as actions aimed at other port installations, another Friends spokesman, Damien Lawson, told Reuters.
With consistent demand, mainly from energy-hungry China, 38,679,777 tonnes of coal were exported from Newcastle in the first five months of 2008, versus 37,154,848 tonnes a year earlier, port data showed last week.
A spokesman for port operator PWCS said the company was working with police to ensure security and was confident there would be little disruption to coal loading operations.
"We have also said in no uncertain terms to the protesters that the Port Waratah Coal Services site is unsafe for anyone untrained, with heavy automated equipment in use, and we have asked them to behave in a way that would be in line with normal community expectations," spokesman Matthew Watson told Reuters.
Coal exports from Newcastle port surged to 2.059 million tonnes last week, while queues for loading slightly eased to 38 ships. The port is aiming to cut the shipping queue to around 20 vessels before the end of September.
The Newcastle protest will follow the G8 meeting of rich nations in Japan, where leaders on Tuesday said in a draft communique they would work with nearly 200 nations in United Nations climate talks to adopt a goal of at least halving greenhouse gas emissions by 2050.
"We want to send a message to the G8 and to Australia's government following the recent Garnaut report (into climate change and emissions trading)," Lawson said.
The Carrington coal rail line moved enough coal to create around 6,000 tonnes of CO2 equivalent being released into the atmosphere, he said.
Australia is the world's biggest coal exporter and largest per head producer of greenhouse gases, emitting five times more per person than China, due to use of coal for almost 80 percent of the country's electricity.
Australia's net greenhouse emissions totaled 576 million tonnes of carbon dioxide equivalent, or about 1.5 percent of world emissions.