Bombardier launches 'green' aircraft programme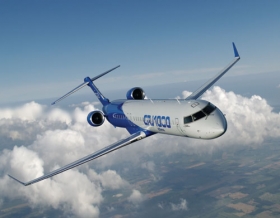 Canadian planemaker Bombardier announced here Sunday the launch of a series of environmentally friendly single-aisle jets, scheduled to enter service in 2013.
German carrier Lufthansa had signed a letter saying it was interested in buying 30 of the CSeries jets and possibly as many as 60, Bombardier said in a statement.
Lufthansa could be followed by other airlines after Bombardier said it had received "significant interest" worldwide regarding the new plane.
The approximate list price of each CSeries aircraft, which will seat between 110 and 130 passengers, is 46.7 million dollars (29.4 million euros).
Bombardier made its announcement a day before the start of the week-long Farnborough International Air Show, outside London -- a traditional battle ground for orders of planes, notably those made by Airbus and Boeing.
Oil-producing Gulf states are expected to make large orders for commercial planes at the week-long event thanks to extra revenue generated from soaring crude prices, which on Friday struck record heights above 147 dollars a barrel.
Aircraft makers argue that record crude prices could push airlines to fast-track investment in more fuel-efficient planes, such as the Airbus A380 and A350, as well as Boeing's Dreamliner.
Nico Buchholz, Senior Vice President, Corporate Fleet, Lufthansa, said the CSeries meets the German airline's "stringent requirements for sustainable fleet development, both in terms of environmental and commercial requirements, and flexibility for the future."
Speaking of the CSeries, Bombardier's president and chief executive Pierre Beaudoin said Sunday: "Today is a great day for Bombardier, our customers, our employees, our shareholders and our suppliers.
"I am proud to say that we have met our business plan objectives: a technologically advanced aircraft family, a strong pipeline of orders and repayable investments with governments and agreements with key suppliers."
He added: "With the latest in-system technologies and aerodynamics, the CSeries family of aircraft will revolutionize the economics and network strategies for airline operations in the 100- to 149-seat commercial market."
Bombardier said the final assembly site for the CSeries would be in Mirabel, Quebec. The planes' fuselage and cockpits would be made at Bombardier's site in Saint-Laurent, Quebec, and the wings in Belfast, Northern Ireland's capital.
The aircraft maker added that investment in development of the new plane would be divided between Bombardier and key suppliers, as well as the governments of Canada, Quebec, Northern Ireland and Britain, which would make repayable loans.