Protest halts coal train for six hours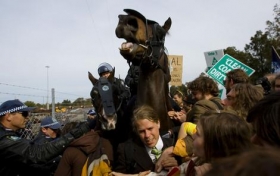 THIRTY-SEVEN demonstrators were arrested after about 1000 people halted trains in Newcastle yesterday in a protest against the coal industry's role in climate change.
Police invoked some special powers, not used in a public protest since the Cronulla riots of 2005, enabling them to search vehicles, although organisers maintained the protest was peaceful.
Three coal trains bound for Carrington Coal Terminal - one of the ports which make Newcastle the world's biggest export point - were halted for about six hours after about a dozen protesters chained themselves to carriages. Hundreds of others lined the fence as mounted police held them back from the rail line from 11am until about 2.30pm.
The delivery of about 20,000 tonnes of Hunter Valley coal destined for export was delayed, although the coal loaders did not stop filling ships.
"All rail movements were stopped because many protesters breached the perimeters and got on the trains," said Port Waratah spokesman, Matthew Watson.
The demonstration marked the third time in less than a fortnight that coal industry operations near Newcastle had been disrupted by protests against the industry's role in climate change.
The demonstration was part of an international movement of "camps for climate action", which are designed to give people concerned about global warming a role in national debate about cutting greenhouse gas emissions.
Article Continues: http://www.smh.com.au/news/environment/protest-halts-coal-train-for-six-hours/2008/07/13/1215887451541.html