Air Canada introduces offsets for corporate travel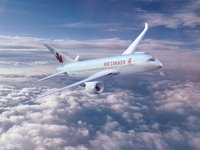 The largest full-service airline in Canada has extended a popular carbon offset initiative to business clients. Air Canada's program will be operated in conjunction with Zerofootprint, a carbon management firm that already has helped individual passengers on the carrier to voluntarily offset 9,417 tons of carbon.
Up to now, passenger offsets on Air Canada have financed a forestry project. But going forward, the airline's corporate clients will be able to pick from a range of Canadian-based carbon mitigation plans to match their environmental goals.
"Air Canada is the country's preferred airline for business travel so it is uniquely positioned to help environmentally conscious companies achieve their green objectives," said Charles McKee, vice president of marketing at Air Canada. "With Zerofootprint, we are expanding our carbon offset program to provide companies easy-to-use and flexible options to offset all or portions of the carbon emissions resulting from their business travel."
Air Canada's corporate clients can use a dedicated web site to choose the percentage of carbon to offset for all corporate travel, as well as to select the project used to mitigate the travel emission. Past data and transactions will be made available to travel managers as well.
"We believe this program will be very attractive to corporations since carbon presents a new and fundamental challenge to business," said Deborah Kaplan, executive director at Zerofootprint. "More and more companies are starting to measure and manage their carbon footprint due to public demand, employee engagement, shareholder interest and newly defined sustainability goals."
All emissions-offsetting projects backed by the Air Canada program are based in Canada. They include forest restoration, landfill gas recovery, tire recycling and the repair of a hydroelectric dam.