Indigenous training offers hope of cutting poaching in Primorye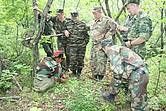 An indigenous people famed for helping early Siberian explorers survive in the wild are now passing on their knowledge to the guardians of one of the world's most porous borders.

Leading the training effort in north east Russia is Vasilii Dunkai, leader of the scouting school in Krasnyi Yar in northern Primorye.

The scouting school was originally conceived to teach school children survival skills and pass on ancestral knowledge but the latest batch of students includeds Russian border patrol forces.

Dunkai, who was joined by Pavel Fomenko, WWF biodiversity conservation coordinator in the region, specifically sought to explain how to minimise conflicts between humans and wildlife, such as tigers and leopards native to the region, and to identify signs of human and animal activity.

It is a role recalling the most celebrated of the Nanai people, Dersu Uzala, the hunter who passed into Russian folkore teaching the explorer Russian explorer Vladimir Arsenyev how to survive Siberia in the early 20th Century.

"All of southwestern Primorye is monitored by the border forces, making them responsible for the protection of rare breeds of species such as the Amur leopard," explains Pavel Fomenko, WWF biodiversity conservation coordinator for the region.

"I hope that the lessons learnt by the soldiers will help to protect Russia's valuable biological resources."

The border patrol plays a key role in seizing and preventing the delivery of valuable animal parts, such as tiger bones used for traditional medicine, across the border into China.

"Monitoring this border region, which stretches for 300 kilometres, is an extremely difficult task," said Fomenko.

"Annually, thousands of snares are removed, and hundreds of Chinese poachers are detained," he added.