Loss of bird species points to environmental crisis: Report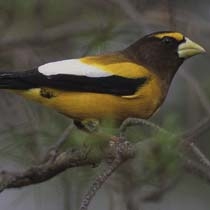 EDMONTON - Common birds are in decline across the world, sending a clear signal there is something very wrong with the basic health of our environment, says a new report.
Twenty of North America's most common bird species have declined more than 50 per cent over the last 40 years, says The State of the World's Birds, released Monday at BirdLife International's World Conference in Buenos Aires.
Around the world, one in eight bird species - 1,226 species in total - face extinction, largely due to loss of habitat and climate change.
Birds breeding in grasslands are fading fast: 15 of 25 species showed significant declines between 1980 and 1999, and an average decline of 1.1 per cent per year.