South Asia fights disease from floods, seeks aid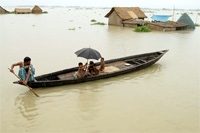 BHUBANESWAR, India (Reuters) - Doctors and health workers struggled to treat thousands of villagers suffering from water-borne diseases in India's east on Thursday, officials said, as the death toll mounted from weeks of flooding in South Asia.
Monsoon rains, burst dams and overflowing embankments have unleashed heavy floods in the region this year, killing more than 1,500 people, mostly in India but also in Nepal.
Water levels are receding at most places, but the specter of disease has risen, especially in India's eastern states of Orissa and Bihar where more than five million people have been severely affected by flooding.
Officials in Orissa said they had treated nearly 18,000 people in the past four days, most of them suffering from diarrhea, fever or rashes. Hundreds of them were children who had been forced to drink dirty flood water to survive.
"We have also treated people with respiratory tract infections," Kashinath Nayak, chief medial officer of the worst-hit Kendrapada district, told Reuters.
In the northern state of Uttar Pradesh, the Yamuna river was touching its danger mark near the Taj Mahal city of Agra, but officials said there was no danger of the 17th-century monument being flooded.
HERCULEAN TASK
Officials said tens of thousands of people had taken refuge on embankments and highways after their homes were destroyed in flooding from an unlocked dam on the Mahanadi river.
Orissa has reported 50 deaths in the past week and several incidents of rioting for food.
Providing relief has also proved a Herculean task in Bihar, which continues to reel under massive floods triggered by a burst dam on the Kosi river in Nepal a month ago.
Tens of thousands are living in government camps. Hundreds of thousands still remain stranded in their villages and sending relief to them has been hampered as floodwaters have washed away roads in most places.
"We want to reach every single man hit by floods," a state government spokesman said.
At least 19 bodies washed up river banks in the last two days, raising the death toll from flooding in Bihar to about 250, officials said. More than 300,000 houses had been destroyed and at least 840,000 acres of standing crops damaged.
Neighboring Nepal urged foreign donors on Thursday to provide food and medicines to thousands of victims left homeless after floods swept homes and inundated several villages in the past week.
TV images showed villagers in waist-deep water stretching out toward low-flying helicopters hoping to be plucked by rescuers.
More than 50,000 people have been sheltered in temporary relief camps that lack basic facilities like sanitation, drinking water and medical care.
"We urge national and international community for humanitarian support required for the reconstruction, rehabilitation and reintegration of the victims," Home Ministry official Suman Ghimire said.
He said Nepal needs food, drinking water, medicines, clothes and construction materials for shelter immediately.
At least 34 people have been killed since last week mainly in Kailali and Kanchenpur districts in southwest Nepal.
(Additional reporting by Gopal Sharma in Kathmandu; Writing by Krittivas Mukherjee; Editing by Alistair Scrutton and Valerie Lee)