EBay to ban sale of ivory products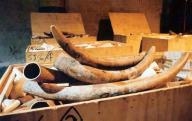 BANGALORE, India (Reuters) - EBay Inc will institute a global ban on the sale of all types of ivory products by January 1, 2009, after a conservation group investigation found more than 4,000 elephant ivory listings on the online auction site.
"We feel this is the best way to protect the endangered and protected species from which a significant portion of ivory products are derived," the company said in its blog on Tuesday.
African and Asian elephants are protected under the U.S. Endangered Species Act and the international Convention on the International Trade in Endangered Species (CITES).
A report to be released later on Tuesday by the International Fund for Animal Welfare (IFAW) says most sales of ivory products through eBay were done on the company's U.S. site.
"In one instance, a user purchased a pair of elephant tusks off eBay for more than $21,000," IFAW said.
Every year, more than 20,000 elephants are illegally slaughtered in Africa and Asia to meet demand for ivory products, according to IFAW.
EBay said it would still allow the sale of some antique items which contain a small amount of ivory, such as a table with a small ivory inlay or an antique piano with ivory keys.
The company said it defines antique as pre-1900 and added that items containing a significant amount of ivory, regardless of age, such as ivory chess sets, broaches and jewelry are not permitted under the new policy.
(Reporting by Ajay Kamalakaran; Editing by David Holmes)