Italian fishers and Spanish legislators add to pressure for action on tuna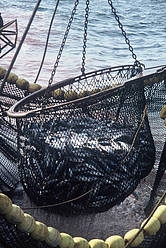 Rome, Italy: Pressure for dramatic action to safeguard the Mediterranean's dwindling bluefin tuna stocks continued to mount last week when Italian fishers endorsed a fishing moratorium as "the lesser of all evils" and Spanish legislators called on their government to take the lead in establishing sanctuaries in key tuna spawning areas.

The new moves came just three weeks before an International Commission for the Conservation of Atlantic Tunas (ICCAT) meeting in Morocco to consider new management rules for the fishery.


They also follow an internal ICCAT review labeling the fisheries management "an international disgrace" and calling for its temporary closure.

There was similar call from the majority of government delegates to the World Conservation Congress earlier this month, as well as the adoption of a strong negotiating mandate for the European Commission, a key ICCAT member, which could include support for a closure by the EU Fisheries Council a week ago.

"These signs from Italy and Spain are just the latest in a litany of calls for the closure of the imperilled Mediterranean bluefin tuna fishery," said Dr Sergi Tudela, Head of Fisheries at WWF Mediterranean.

"Both a suspension of fishing and the creation of sanctuaries in main spawning areas will be key to the sustainable management of bluefin tuna in these troubled waters."

A WWF report last month revealed rampant violations of the tuna fishery rules by the Italian fleet.

WWF welcomed the unanimous approval by Spain's Parliament of the proposal for bluefin tuna sanctuaries south of the Balearics, in the Central Mediterranean, and in the Levant Sea, the world's three most important spawning grounds for bluefin tuna.

Spain, which has the largest Mediterranean bluefin tuna fishing quota, voted for the World Conservation Congress motion to close the fishery until an adequate management regime and other measures such as the establishment of sanctuaries can be put in place.