The President and the Planet, on a Budget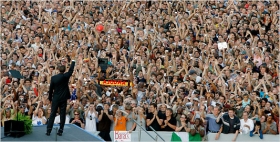 President-elect Barack Obama on Jan. 20 will become the most important leader of a species that has exploded in just six generations from a total population of 1 billion (around 1830) to a point today when teenagers alonenumber 1 billion, a species that is on a path toward more or less 9 billion people by mid-century. In numbers, think roughly of adding two Chinas on top of the one that exists today. Expectations that he will exert planet-scale leadership are high, as indicated in this letter from Nelson Mandela to the next president.
Mr. Obama will of course be mainly focused first on economic renewal and finding a way forward in Iraq and Afghanistan. But inevitably issues related to humanity's growth spurt — both in numbers and resource demands — will come to the fore. The Times columnist David Brooks wrote an interesting piece the other day, "A Date With Scarcity," focused on resource and financial limits facing an American generation that came of age expecting ever more, explaining a time when "demands on the nation's wealth outstrip the supply." As he projected, "There will be fiercer struggles over scarce resources, starker divisions along factional lines."
Many students of global population and resource trends say the same constraints and consequences are likely to play out on a planetary scale. Keep in mind, as I said above, that we essentially live on "Planet Teen" right now. Depending on the level of governance and economic opportunity they experience, today's young people could either become soldiers or students, agitators or innovators, terrorists or teachers.
Article Continues:Â http://dotearth.blogs.nytimes.com/