Bald Eagles in Catskills Show Increasing Mercury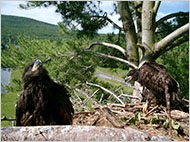 Less than two years after the bald eagle was removed from the federal government's endangered species list, an environmental organization in Maine has found an alarming accumulation of mercury in the blood and feathers of bald eagle chicks in the Catskill Park region of New York.
The levels are close to those associated with reproductive problems in common loons and bald eagles elsewhere in the Northeast, although the New York and national populations of bald eagles have been growing strongly in recent years.
The study is being released Tuesday by the BioDiversity Research Institute, a nonprofit ecological organization in Gorham, Me. The average mercury blood level in chicks within the parks' boundaries was 0.64 parts per million.
The same study showed that about one-quarter of the feathers of adult birds also had elevated levels of mercury, suggesting that the toxin builds up in the raptors faster than they can get rid of it.