Sierra Warming: Later snow, earlier melt: High anxiety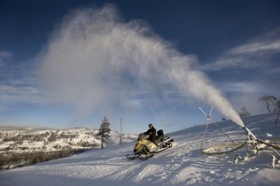 After weeks of waiting, mountain residents awoke to their first glimpse of winter on Dec. 13, a few fluffy inches of powder that clung to the tops of boulders like chefs' hats.
More fell over the past two weeks, enough to bury the camel-colored meadow grass and wine-red willows in a deepening blanket of white. The magic, though, came late, just days before Christmas – one of the tardiest winter debuts ever.
How much more snow will fall is anyone's guess. A winter storm just hit Thursday, dumping several feet of snow, to the relief of snow-starved resorts. But in the late arrival of this year's snow season – and increasingly early spring snowmelt from the mountains – scientists and state officials are finding more than the signature of a natural drought. They believe they detect the fingerprint of climate change.
The implications could be enormous. After all, the snowcapped Sierra is more than a skier's paradise. It is a giant water faucet in the sky, a 400-mile-long, 60-mile-wide reservoir held in cold storage that supplies California with more than 60 percent of its water, much of it when it's needed most: over the hot, dry summer months.
Article Continues:Â http://www.sacbee.com/ourregion/story/1499249.html