Japan snubbed over anti-whaling ship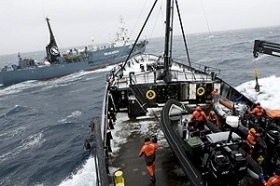 Acting Prime Minister Julia Gillard says there is no reason to ban an anti-whaling ship from docking at an Australian port.
The Sea Shepherd Conservation Society ship Steve Irwin has suspended its chase of a Japanese whaling fleet in Antarctic waters and is heading towards Hobart to refuel.
Japan plans to ask Australian to block the vessel from entering the country, saying Sea Shepherd's "pirate-like" and violent actions must be rejected.
The Japan Whaling Association has said both Australia and New Zealand should bar the Steve Irwin from their ports.
But Ms Gillard said there were no grounds to ban the Steve Irwin from docking in Hobart, although the vessel is yet to request to do so.
"We have not received an impending vessel request from the Steve Irwin," she told reporters in Melbourne on Thursday.
"Should such a a request be received, then the Steve Irwin will be permitted to dock at an Australian port.
"There is insufficient reason to prevent the Steve Irwin from doing that."
Ms Gillard reiterated the need for the vessel to refrain from dangerous activities on the high seas.
"What we have said to the Steve Irwin is ... that when the Steve Irwin is in the Southern Ocean, that is obviously a dangerous stretch of water, it's very far removed from land.
"We want people when they are on that stretch of water to conduct themselves in a way which ensures that they stay safe and others are safe."
The Japanese whaling fleet plans to kill about 1,000 whales this summer, using a loophole in a 1986 global whaling moratorium that allows "lethal research" on the ocean giants.