Gulf Oil States Seeking a Lead in Clean Energy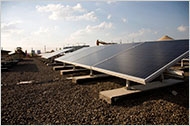 ABU DHABI, United Arab Emirates — With one of the highest per capita carbon footprints in the world, these oil-rich emirates would seem an unlikely place for a green revolution.
Gasoline sells for 45 cents a gallon. There is little public transportation and no recycling. Residents drive between air-conditioned apartments and air-conditioned malls, which are lighted 24/7.
Still, the region's leaders know energy and money, having built their wealth on oil. They understand that oil is a finite resource, vulnerable to competition from new energy sources.
So even as President-elect Barack Obama talks about promoting green jobs as America's route out of recession, gulf states, including the emirates, Qatar and Saudi Arabia, are making a concerted push to become the Silicon Valley of alternative energy.
They are aggressively pouring billions of dollars made in the oil fields into new green technologies. They are establishing billion-dollar clean-technology investment funds. And they are putting millions of dollars behind research projects at universities from California to Boston to London, and setting up green research parks at home.
Article Continues:Â http://www.nytimes.com/2009/01/13/world/middleeast/13greengulf.html