Coal Industry Digs Itself Out of a Hole in the Capitol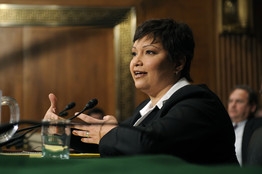 WASHINGTON -- Big Coal is on a roll in the nation's capital, winning early rounds this week in what promises to be a long fight over fossil fuels and climate change.
Despite a well-funded ad campaign by environmentalists attacking the industry, and a huge coal-ash spill in Tennessee that has led to calls for more regulation, the industry has received positive assurances this week from President-elect Barack Obama's nominees that the new administration is committed to keeping coal a big part of the nation's energy source.
On Wednesday, Mr. Obama's choice to lead the U.S. Environmental Protection Agency, Lisa Jackson, described coal to a Senate panel as "a vital resource" for the country. A day earlier, Mr. Obama's nominee to run the Energy Department, physicist Steven Chu, referred to coal as a "great natural resource." Two years ago, he called the expansion of coal-fired power plants his "worst nightmare."
The comments indicated the new administration is trying to steer toward the center in the debate over the costs associated with curbing fossil fuels and the greenhouse gases they produce.
Environmental groups are ratcheting up attacks on the industry. Last month, a group led by former Vice President Al Gore ran a national TV and print ad campaign lampooning the promise of so-called clean-coal technology and suggesting it would be risky for the U.S. to hold off on regulation of carbon-dioxide emissions until such technology becomes commercially available.
Coal-fired power plants account for half of the U.S. electricity supply, and are one of the leading sources of U.S. emissions of carbon dioxide, the main greenhouse gas.
Carl Pope, executive director of the Sierra Club, said Wednesday he wasn't surprised by the nominees' comments and noted that a 2007 Supreme Court ruling obligated the Obama administration to eventually determine whether greenhouse-gas emissions endanger health or welfare, the legal trigger for regulating them under the federal Clean Air Act.
Addressing the Senate Committee on the Environment and Public Works, Ms. Jackson didn't say Wednesday how quickly her agency would reach that decision, but promised to "immediately revisit" the December 2007 order by current EPA Administrator Stephen Johnson to deny California and other states permission to implement their own controls on automobile greenhouse-gas emissions.
Article Continues:Â http://online.wsj.com/article/SB123198153797183981.html