VW Jetta TDI - clean diesel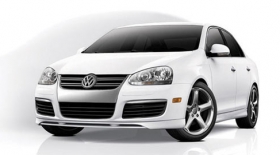 If you're one of the handful of people considering buying or leasing a new car, or you're just doing some window shopping, you might want to consider the Jetta TDI, which was voted 'Green Car of 2009′ by Green Car Journal.
The Jetta TDI gets a surprising 41 mpg highway and 30 mpg city, runs on low sulfur diesel that produces 97 percent less sulfur content, and features a direct injection system that reduces sooty emissions by 90 percent.
Performance-wise, the TDI packs a decent punch since the 'T' stands for 'turbo.'  Lists for just over $20K.
more specs @Â vw.com