India: Policy for climate trust okayed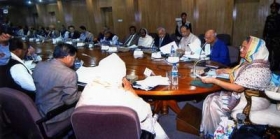 The cabinet today approved a policy in principle for formation of a trust on climate change.
A cabinet meeting with Prime Minister Sheikh Hasina at the cabinet division's conference room at the Secretariat approved the policy.
A five-member committee headed by the prime minister's adviser for economic affairs and planning minister was formed to monitor the trust.
A special allocation of Tk 300 crore was given in the last budget for the first time for development activities to combat the climate change.
The prime minister asked all concerned to use the fund appropriately, reports ATN Bangla, a private television.
The government earlier had set up a secretariat on climate change under the environment and forest ministry to monitor the activities for combating climate change and deal with the climate change fund.
The initiative was taken to face the challenges of climate change as Bangladesh is highly vulnerable to global warming.
The ministry had already formed three special committees -- Inter-ministerial Climate Change Steering Committee, Climate Change Technical Committee and the Trust Fund Board -- to facilitate the works of the secretariat, ministry sources said.
Article Continues:Â http://www.thedailystar.net/newDesign/latest_news.php?nid=14761