Japan rules out 40 pct 2020 carbon emissions goal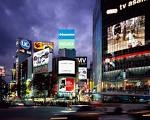 Japan has ruled out cutting greenhouse gas emissions by 40 percent by 2020 from 1990 -- the most ambitious possible action according to a reference target set by a U.N. panel of climate scientists.
Agreeing a 2020 target to curb greenhouse gases is one of the most contentious aspects for rich countries of U.N. climate talks meant to end with a new treaty to replace the Kyoto Protocol in December this year.
Japan is expected to announce its 2020 goal by June. The country argues that because it is so energy efficient already, it will be more expensive to meet the same emissions-cutting target of other rich countries.
The Intergovernmental Panel on Climate Change (IPCC) has said a target for rich countries to cut their greenhouse gases by 25-40 percent by 2020 is compatible with ambitious climate action.
"We've concluded that a 40-percent cut is too tough to meet," said Hiroshi Kamagata, counsellor in charge of climate policy at Cabinet Secretariat, referring to discussions by a working group of experts reporting to the government.
The European Union last December agreed to cut emissions by 20 percent by 2020.
Japan published on Thursday scenarios for how it may achieve cuts in greenhouse gases at different levels by 2020, as a basis for further discussions by industry officials, academics and NGOs.
"We analysed how comparative each nation's responsibility would be if rich nations cut emissions by 25 percent," said Kamagata in an interview with Reuters.
In order to meet a tough target Japan would have to implement a variety of policy measures, including emissions trading with compulsory carbon caps as in the EU.
But such options are premature to discuss, Kamagata said.
It would be almost impossible for Japan to meet a target to cut CO2 emissions by 14 percent or more by 2020 from 1990 without strict policy measures, according to a government study.
Pro-clean energy experts have argued an ambitious climate target could help Japan's industry sector to develop new technologies to improve energy efficiency and cut industry costs.
Among the new report on scenarios, under current investment trends carbon emissions would rise 6 percent by 2020.
"It's quite disappointing to see a scenario of plus 6 percent at this timing (of the global climate talks)," said Naoyuki Yamagishi, head of WWF Japan's climate programme.
Japan's Kyoto commitment is to cut emissions by 6 percent from 1990 levels over 2008-2012. (Additional reporting by Reiji Murai) (Editing by Gerard Wynn and Guy Dresser)
Sourced from the Thomson Reuters Carbon Markets Community - a free, gated online network for carbon market and climate policy professionals.