Volkswagen, Toshiba To Partner on Electric Car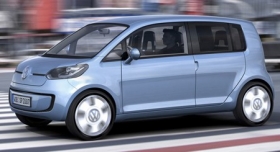 Volkswagen AG (VOW.DE) and Toshiba Corp (TOSBF.PK) signed a letter of intent to co-develop an electric-powered version of Volkswagen's subcompact Up! concept car according to a Reuters report.
"The objective is a cooperation for the development of electric drive units and the accompanying power electronics for Volkswagen's planned new small (car) family," Volkswagen reportedly said in a statement.
"Furthermore, Volkswagen and Toshiba are planning the development of battery systems with a high specific energy density for the next generation of electric vehicles," the statement continued.
No further details were given.
In May 2008, Volkswagen and Sanyo Electric Co., Ltd. (SANYY.PK) agreed to co-develop lithium-ion (Li-ion) battery systems for Hybrid Electric Vehicles (HEV).
More recently, the German automaker's 2009 Jetta TDI was named Green Car Journal's 2009Green Car of the Year.