Obama creating auto industry panel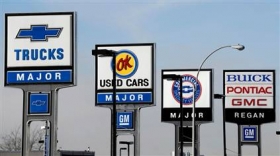 WASHINGTON - President Barack Obama plans to appoint senior administration officials — rather than a single "car czar," as had been discussed — to oversee a restructuring of the auto industry.
Treasury Secretary Timothy Geithner and National Economic Council Director Lawrence Summers will oversee the across-the-government panel, a senior administration official said Sunday on the condition of anonymity because no announcement had been made.
"The president understands the importance of this issue and also understands that the auto industry affects and is affected by a broad range of economic policies," the official said.
As the teams move forward, Obama "wants to make sure that we're getting the expertise and input of agencies across the government," the official said.
Obama and his aides face difficult choices on the fate of the U.S. auto industry, weighing the cost of pouring billions more into struggling companies against possible bankruptcies that could undermine plans to jump-start the economy.
General Motors Corp. and Chrysler LLC are racing against a Tuesday deadline to submit plans to the government. The plans are to be followed by weeks of intense negotiations ahead of a March 31 deadline for the final versions of the reports.
Article Continues:Â http://www.msnbc.msn.com/id/29211954/