US calls for treaty on mercury reduction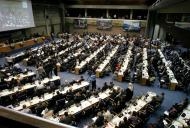 NAIROBI, Kenya (AP) - The new U.S. administration wants a legally binding international treaty to reduce mercury in the environment, a senior diplomat said Monday, announcing a reversal of previous policy.
Mercury finds its way into the food supply and is commonly found in high concentrations in fish. Children and fetuses are particularly vulnerable to effects of the toxic metal, which can damage the development of the nervous system.
The U.S wants negotiations to begin this year and conclude within three years, said Daniel Reifsnyder, the deputy assistant secretary of state for environment and sustainable development.
"We're prepared to help lead in developing a globally legally binding instrument for mercury," Reifsnyder told an annual meeting of the world's environment ministers in the Kenyan capital.
A U.S.-drafted proposal obtained by The Associated Press would, if passed by the environment ministers, see a negotiating committee formed and the U.N. environment program helping countries reduce their mercury use, among other things.
"It is clear mercury is the most important global chemical issue facing us today that calls for immediate action," Reifsnyder said, referring to mercury's ability to stay in the environment for a long time and be carried across the world.
Article Continues:Â http://www.google.com/hostednews/ap/article/ALeqM5gjEHXtGOtiZbKdW-N6hBmp5vCl9gD96CPBTO0