Solar car completes 1st ever round-the-world trip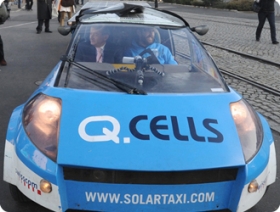 VANESSA GERA
Friday, December 5, 2008
POZNAN, Poland (AP) -- The first solar-powered car to travel around the world ended its journey at the U.N. climate talks Thursday, arriving with the message that clean technologies are available now to stop global warming.
The small two-seater -- made from aluminum and fiberglass -- hauled a trailer of solar cells and U.N. climate chief Yvo de Boer up to a building in Poznan where delegates from some 190 nations are working toward a new treaty to control climate change.
"This is the first time in history that a solar-powered car has traveled all the way around the world without using a single drop of petrol," said Louis Palmer, the 36-year-old Swiss schoolteacher and adventurer who made the trip.
"These new technologies are ready," he said. "It's ecological, it's economical, it is absolutely reliable. We can stop global warning."
The car travels up to 55 mph (90 kph) and covers 185 miles (300 kilometers) on a fully charged battery.
Palmer's appearance at the conference came after a 32,000-mile (52,000-kilometer) journey that began 17 months ago in Lucerne, Switzerland, and took him through 38 countries.
He calls the vehicle, developed by scientists from Swiss universities, a "solar taxi" because he has given rides to some 1,000 people to convince them of the technology's viability. Passengers have included New York City Mayor Michael Bloomberg and U.N. Secretary-General Ban Ki-moon.
On Thursday, he took an Associated Press reporter for a short drive to demonstrate how similar the vehicle is to a regular gas-powered car.
Designed like a race car, it can hold two people comfortably but, fittingly, it lacks climate control.
Palmer flipped a switch to activate the battery-powered electric engine, which produced a soft hum, and then guided it smoothly down a street.
Article Continues:Â http://climate.weather.com/articles/solarcar120501.html