Global warming leaving its mark on polar bears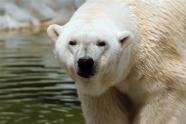 Potentially fatal to the polar bear, global warming has already left its mark on the species with smaller, less robust bears that are increasingly showing cannibalistic tendencies.
Top experts who gathered this week in Tromsoe in northern Norway to discuss ways of protecting the species sounded alarm bells over the dramatic consequences of the melting ice.
"We don't have hard evidence about climate change but we have evidence about the numerous symptoms of climate change on polar bears," Andrew Derocher, chair of the Polar Bear Specialist Group, an international network of researchers, said.
The primary observation is that as the sea ice shrinks away, so are the polar bears -- they're not growing as big as they used to.
In Canada's Hudson Bay, home to a large polar bear population, the ice season is now three weeks shorter than it was 30 years ago, chipping away at the bears' opportunity to hunt seals, their primary source of food and an essential source of fat needed for their long summer fast.
Females today weigh around 230 kilos (500 pounds), some 65 kilos less than in 1980, and measure about 185 centimetres (6.07 feet) on average, compared to around 220 centimetres a few decades ago.
Article Continues:Â http://www.google.com/hostednews/afp/article/ALeqM5jXHkD3ZD-fRkkh0L0I65CkETIX3Q