Obama links budget to environment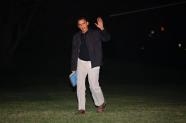 WASHINGTON (AP) — President Barack Obama's aides say the administration will work with Congress on his budget proposal, but energy independence is not subject to wheeling and dealing.
Obama planned to make the case Monday for a budget proposal that invests billions in research designed to reduce climate change and guarantees loans for companies that develop clean energy technologies. Obama has tied his first budget proposal as president to a renewable energy program to help the United States move toward energy independence.
In a fact sheet released Monday, the White House said Obama's meeting with "clean energy entrepreneurs and leaders of the research community" will outline an energy program that draws on the administration's $787 billion stimulus package for $39 billion at the Department of Energy and $20 billion in tax incentives for clean energy.
It also disclosed that his 10-year budget proposal contains spending of nearly $75 billion to make permanent existing tax cuts for energy research and experimentation.
Article continues:  http://www.google.com/hostednews/ap/article/ALeqM5jNlJOuGuTs5qgEuIws8f56V48hyAD973OHC00