G20 summit will test resolve on greener economy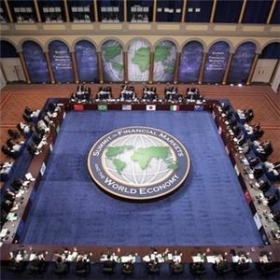 LONDON (Reuters) - A G20 summit next week will test leading countries' appetite to fight climate change after spending trillions bailing out banks and shoring up the global economy.
The April 2 meeting in London of leaders of major developed and emerging economies aims to battle a financial crisis.
British Prime Minister Gordon Brown, hosting the meeting, also wants to coordinate economic stimulus spending on a global response to climate change.
If the summit fails to widen its agenda to green spending that would be seen at best as a wasted chance, and at worst evidence of waning enthusiasm to sign this year an ambitious pact to replace the Kyoto Protocol after 2012.
"We need a very clear signal that the G20 views this as broader than fixing a financial crisis," said Achim Steiner, executive director of the UN Environment Program.
"When you see $100 billion going into rescuing one or two companies you have to ask yourself is this the most rational way of dealing with a (climate) threat that will have far greater economic consequences and human suffering."
Article continues:  http://www.reuters.com/article/environmentNews/idUSTRE52P4NA20090326?feedType=RSS&feedName=environmentNews