The White House is going green — again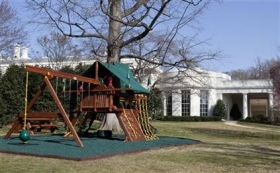 WASHINGTON - President Barack Obama will find out two things as he studies how to make the White House more environmentally friendly:
No. 1: It's already been done. No. 2: It needs to be done again.
It was Earth Day 1993 when President Bill Clinton launched his ambitious "greening the White House" project. That effort saved more than $1.4 million in its first six years, largely from improvements in lighting, heating, air conditioning, insulation, water sprinklers and other measures.
During George W. Bush's two terms, workers installed three solar systems, including a thermal setup on the pool cabana that heats water for the pool and showers, and photovoltaic panels atop a maintenance shed that supplement the mansion's electrical supply. Bush also made a big push to recycle office paper, although the overall go-green effort lost momentum during his tenure, according to many outside observers.
Article continues:  http://www.msnbc.msn.com/id/29944122/