Environmental Group: Consumers are Recycling and Buying 'Green'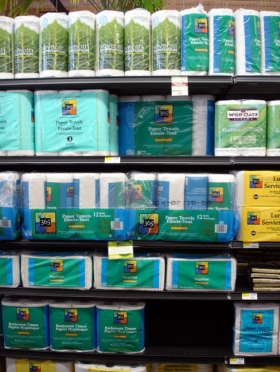 A study by the environmental organization Green Seal finds that four out of five Americans are buying "green," environmentally friendly, but often more expensive, products despite the economic recession. But, the study also shows that consumers are uncertain which products are really "green."
Green Seal President Arthur Weissman says most people who were surveyed said they are recycling.
"And that's great news," he said. "About 87 percent say they are doing that. But an even more astounding result for us from this survey, which encompassed 1,000 adults [in] a random telephone survey in January of this year, was that over 800 of the respondents - that's over four out of five people - say they are still buying green products, still buying green products in a very severe recession."
But Weissman says the survey by Green Seal and the firm EnviroMedia Social Marketing shows that consumers are uncertain how to tell whether a product helps the environment. One in 10 relied on advertising and one in five said that product reputation helped them determine whether a product is green. One in five said that word of mouth - getting advice from friends - was an important source of information.
Article continues:  http://www.voanews.com/english/2009-03-30-voa64.cfm