92,000 Acres Sold in Adirondacks, With Protection Pledge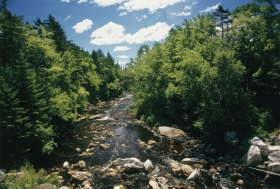 The Nature Conservancy has sold 92,000 acres of forest in the Adirondacks to a Danish pension fund as part of a long-term strategy to protect the land from development.
The pension fund, ATP, paid $32.8 million for the acreage. The fund will benefit from tax credits related to a planned New York State conservation easement on the land that prohibits development but allows recreation and logging under strict sustainable forestry standards. RMK Timberland Group will manage the land for the pension fund.
Officials at the conservancy, an international nonprofit environmental group, said the transaction struck a balance between protection of wild lands and the region's economic interests. Not only will it maintain environmentally responsible logging operations, they said, but it will create the opportunity for moneymaking recreational uses in areas that have been closed to the public.
"This is an extraordinary investment in the Adirondack economy by a world leader pension fund, and an affirmation of the viability of green investment in timber," said Michael T. Carr, executive director of the Adirondack chapter of the Nature Conservancy.
The land is part of 161,000 acres in the Adirondacks, including mountain peaks, lakes, ponds, rivers, streams and a commercial forest, that the Nature Conservancy bought in 2007 from the Finch Paper company for $110 million to prevent it from being subdivided and developed by builders of houses and resorts.
Article continues:  http://www.nytimes.com/2009/03/31/science/earth/31adirondacks.html