Report lists America's 10 most endangered rivers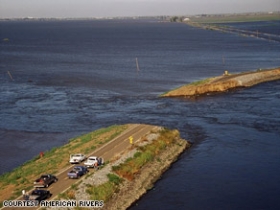 (CNN) -- Rivers are the arteries of our infrastructure. Flowing from highlands to the sea, they breathe life into ecosystems and communities.
But many rivers in the United States are in trouble.
Rivers in Alaska, California and the South are among the 10 most endangered, according to a report released Tuesday by American Rivers, a leading river conservation group.
The annual report uses data from thousands of rivers groups, local governments, environmental organizations and citizen watchdogs to identify waterways under imminent threat by dams, industry or development.
"Our nation is at a transformational moment when it comes to rivers and clean water," said Rebecca Wodder, president of American Rivers. "Water is life, yet our nation's water infrastructure is so outdated that our clean drinking water, flood protection and river health face unprecedented threats."
American Rivers has released its annual endangered rivers report since 1986. The report is not a list of the nation's most polluted waterways, but highlights 10 rivers facing decisions in the coming year that could determine their future.
Article continues (including the list of America's 10 most endangered rivers)