Antarctica's tumultuous past revealed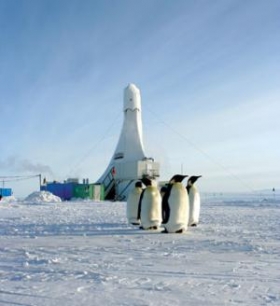 THE midnight sun hangs low in the sky on this November evening. A plain of flat ice sweeps in all directions and mountains rise in the distance. Perched on the sea ice is a massive, teepee-shaped tent. A mechanised rumble emanates from within.
Inside the tent, men in hard hats tend a rotating shaft of steel. This drill turns day and night through 8 metres of sea ice covering the surface of McMurdo Sound, off the coast of Antarctica, and through 400 metres of water beneath it and into the seabed.
It's not oil these men are drilling for, but another precious resource - historical perspective that could help us to predict the future of sea level rise. Welcome to the Antarctic Geological Drilling project, or Andrill.
This international team is extracting two columns of stone from the sea floor. A few kilometres away, scientists at McMurdo Station, a US research base, work 24 hours a day to analyse them. The cores of stone are providing them with a record peering 19 million years into Antarctica's history.
We know that Antarctica froze 35 million years ago, when its detachment from South America unleashed a circumpolar ocean current that isolated it from warmer parts of the world. What we do not know is whether its ice sheets have stayed frozen or melted and reformed many times since then.
It is an urgent question. Understanding how Antarctica's ice responded to past climate swings will help us to predict how it will react as temperatures rise in the coming decades. The mighty ice sheet covering West Antarctica could unleash enough water to raise sea levels by 5 metres were it to melt.
Andrill's results reveal a breathtaking picture. They show how the West Antarctic ice sheet has collapsed and regrown at least 60 times in the past few million years. Andrill predicts that it could once again tip toward collapse by the year 2100.