California Utility Considering Space-based Solar Arrangement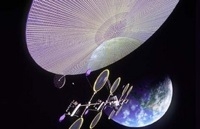 When procuring just about anything, it makes sense to get as close to the source as possible. That's the idea behind an ambitious plan to harvest solar energy from outer space, then beam the electricity back to Earth.
Ground-based solar arrays, which are affected by cloudy weather and the night-day cycle, typically produce at about 25 percent of capacity A space-based solar installation on a satellite, however, may have a capacity of 97 percent, according to an MSNBC article.
Pacific Gas & Electric, based in San Francisco, is seeking state regulatory approval to purchase power over a 15-year period from Solaren Corp., Manhattan Beach, Calif. Solaren hopes to begin generating electricity from its solar satellite by 2016, if it can clear technological and regulatory hurdles.
Here's how it would work:
1. Solaren launches a series of flights into Earth orbit, where the satellite is assembled.
2. The satellite gathers solar rays and converts them to radio-frequency transmissions, which would be beamed to a receiving station in Fresno.
3. The Fresno plant converts the transmissions into electricity, feeding them into PG&E's power grid.
PG&E is not making any investment in Solaren's project, nor would it be the sole client, according to the article. PG&E has signed an agreement to buy the electricity at an unspecified rate that is comparable to that from other renewable energy sources.
Article continues:  http://www.environmentalleader.com/2009/04/14/california-utility-considering-space-based-solar-arrangement/