California Seeks to Curb Appetite of Power-Hungry TVs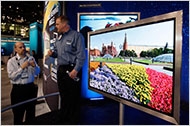 SAN FRANCISCO — Estimating that televisions and their electronic accessories account for 10 percent of the electricity used in an average household, California's energy wardens want to put new flat-panel models on a diet.
The state's Energy Commission has proposed new efficiency standards that would require televisions sold in California to use 50 percent less energy by 2013. The proposed rules, which the commission is expected to act on this summer, would affect televisions manufactured from January 2011 onward.
The Consumer Electronics Association is resisting the new standards, arguing that the industry could achieve the energy savings without the rules.
For starters, said Douglas Johnson, senior director of technology policy for the industry group, consumers could adjust brightness and contrast settings, left at top levels by factories, and reduce the energy consumed by as much as 25 percent. "There are much more savings to be had by what we're suggesting as alternatives," Mr. Johnson said.