'Major Emitters' Meet To Tackle Climate Change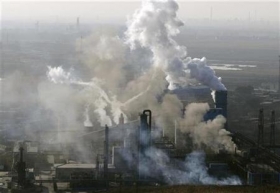 Morning Edition, April 27, 2009 · Sixteen nations are responsible for 80 percent of the world's greenhouse gas emissions. Now those nations, dubbed the "major emitters," are sending representatives to a conference beginning Monday in Washington, D.C., to see if they can work together to slow the pace of climate change.
The Obama administration has moved quickly to deal with climate change in the international arena. It has joined the United Nations talks that will take place in Copenhagen later this year and are aimed at developing a climate-change treaty. It is working one-on-one with China — which recently surpassed the U.S. as the world's largest carbon emitter.
And in the meetings that start Monday, the Obama administration is convening the 16 nations that contribute most to climate change.
"It was originally started by the Bush administration so they would appear to be doing something when they weren't really doing anything," says Timothy Wirth, who served in the Clinton administration as a climate envoy. He now runs a nonprofit group called the United Nations Foundation.