Report lists worst, best cities for air quality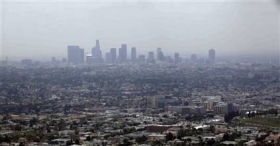 LOS ANGELES - Sixty percent of Americans live in areas with unhealthy air pollution levels, despite a growing green movement and more stringent laws aimed at improving air quality, the American Lung Association said in a report released Wednesday that also listed the healthiest and unhealthiest cities across the U.S. in terms of air quality.
The public-health group ranked the pollution levels of U.S. cities and counties based on air quality measurements that state and local agencies reported to the U.S. Environmental Protection Agency between 2005 and 2007.
Overall, the report found that air pollution at times reaches unhealthy levels in almost every major city and that 186.1 million people live in those areas. The number is much higher than last year's figure of about 125 million people because recent changes to the federal ozone standard mean more counties recognize unhealthy levels of pollution.
To see full article and city ratings, visit http://www.msnbc.msn.com/id/30476335/.