Ice Flood in Alaska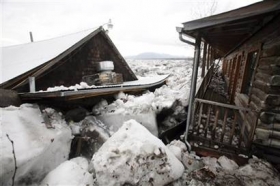 An ice jam that suddenly gave way on Alaska's mighty Yukon River sent floating ice chunks the size of homes into the town of Eagle, knocking some buildings off their foundations and damaging others.
The city and neighboring Eagle Village had earlier been flooded by the ice jam, which had backed up river water. The ice jam had kept water nearly 20 feet over the river's flood levels on Wednesday. The Yukon's flood levels at Eagle, about 200 miles east of Fairbanks, was 34 feet.
The ice jam broke Wednesday night, instantly adding four feet to earlier flooding. By Thursday, the water had receded by about 20 feet from its peak.
Satellite dishes and pallets littered muddy dirt streets near the waterfront, scattered among boulders of ice. Icebergs the size of small boats drifted by in the current.
The ice on Wednesday pushed over a retaining wall and against a row of buildings along Front Street, knocking at least four off their foundations.
Two of them, an old log cabin used as a storage shed and an old sauna, were carried down the river.